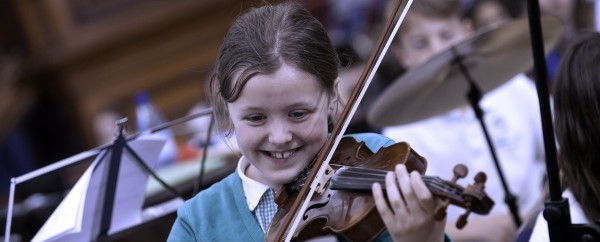 Hackney Music Service is the Lead Organisation for the Hackney Music Education Hub and offers a responsive and flexible service with talented teachers and partnerships with world-class ensembles, organisations and local groups. We offer an array of large-scale performance opportunities. Pathways for the most gifted mean our students are now studying at some of the best conservatoires in the country.
We offer advice and guidance on the music curriculum and support to monitor progress in music for all. The service also develops talented students and culminates in major performances by pupils in public venues.
Benefits of our support include:
Support to develop a strong music curriculum
Access to instrumental and vocal opportunities, instruments and resources and expert tuition
Performance opportunities for young people and collaborations with professional partners to broaden students' musical experiences
Musical pathways and progression routes for talented young people
We offer a variety of services to schools:
Instrumental and Vocal Tuition
Music Festivals and Events
Partnerships & Bespoke Projects
Music Development and Training
For full information please visit the Services for Schools website.
School Music Forums:
We hold termly forum, review and development meetings with Heads of Music, teachers, and coordinators. These are fantastic opportunities for music providers to meet and discuss key issues, collaborate, and network. Topics covered across the meetings include Progression Routes, Resource Sharing, OFSTED requirements for Music and Best Practice Sharing.
For more information about our forums and how to attend, see relevant pages below:
"…it was fantastic to see how confident the children were performing and the progress they have made since last year. I felt a very proud Head Teacher! I was inundated last night and this morning with parents congratulating me on how successful the evening was" 
Mark Derrington, Headteacher, Grasmere Primary School