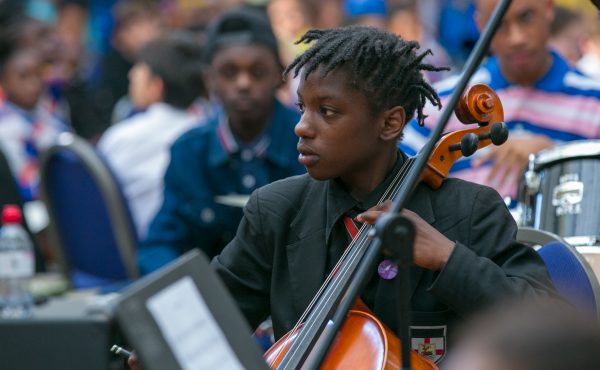 The Hackney Borough Youth Orchestra is a KS3+ ensemble for Grade 5 + standard young musicians.  It brings together the most advanced players from across the borough and provides them with an opportunity to play challenging repertoire, introducing them to a diverse range musical genres and composers from around the world, supported by an exceptional team of tutors.  HBYO is a progression route for Hackney Training Orchestra players, though eligible players are also welcome to apply directly to join HBYO.   The orchestra performs regularly, and there are many opportunities to work alongside other HMS Ensembles and Partner Organisations.  Recent projects include A World Music Odyssey with the Grand Union Orchestra and Everyone's Climbing Tree, and the Take Note project with the London Symphony Orchestra. HBYO players are also frequently nominated for special projects e.g. NYO Inspire courses, the LSO's East London Academy and opportunities to take part in special events such as the LSO's annual open air concert in Trafalgar Square.
Hackney Borough Youth Orchestra is open to players in Year 7 and above

Applicants must be of Grade 5 standard or higher. Applicants need not necessarily have taken a Grade 5 exam but should be able to play and sight-read to the level expected for Grade 5 players

Exceptions are very occasionally made to the minimum standard / age requirements where we have a shortage of particular orchestral forces, or due to other exceptional circumstances

Applicants will be invited to attend a friendly and informal audition / trial session

Applicants must either live in the borough of Hackney or attend a Hackney school

HBYO may also accept 'associate members' from neighbouring boroughs in certain circumstances, please get in touch for more information
When: Tuesdays 6pm – 7.30pm
Where: Bridge Academy, Laburnum Street, London, E2 8BA
HBYO Team: Conductor/Brass – Lawrence Tatnall, Strings – Ginny Strawson, Woodwind – Vahan Salorian, Percussion – Paddy Baird, plus a rota of additional guest tutors including Uchenna Ngwe and Omar Puente.
Membership: Membership to HBYO costs £35 for young people attending a Hackney school, £45 for those living in Hackney but going to an out of borough school.  Costs for Pupil Premium families are £15 per term.
To apply to join the Hackney Borough Youth Orchestra, please complete this application form
For further information, please email xanthe.sarr@hackney.gov.uk