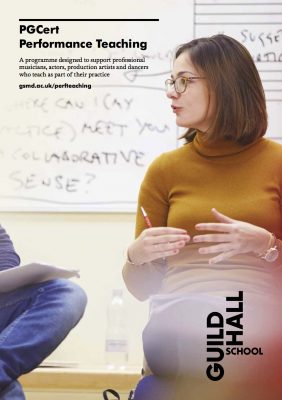 This year Guildhall offering a 50% discount to all Hackney teachers. The time commitment is 13 days of face-to-face workshops, plus online learning and self-directed study. The workshops are generally at weekends, mostly coinciding with half terms and holidays.
The course is designed to support professional musicians, actors, production artists and dancers who teach as part of their practice as performers either as their main employment or as part of a portfolio career. It offers a unique opportunity to develop creative and reflective practice in teaching performing arts.
There are two pathways: PGCert and PGCert (HE). If you already have appropriate experience of teaching at HE level you may have the option of taking the PGCert (HE) pathway which will lead to additional professional recognition – Fellowship of the Higher Education Academy. In order to be eligible for the PGCert (HE) pathway, you need to be able to draw on at least 50-60 hours of authentic HE Learning & Teaching practice whilst doing the course.
25th March closing date for applications to the Guildhall School's PGCert in Performance Teaching.
Further Information