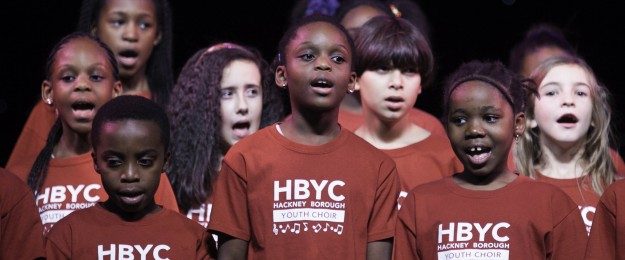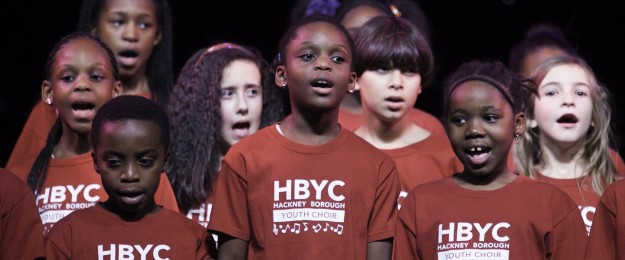 Hackney Borough Junior Choir: Yr4 – 6/7
Directors: Jane Morgan, Lauren Dyer, Tommy McLaughlin and a rotation of guest conductors.
Junior HBYC was established 6 years ago as a progression route for upper Key Stage 2 singers. Entry to the choir is via teacher recommendation followed by an audition. Termly invitations to audition are sent out to all primary schools in the borough and Head Teachers / Music Coordinators are asked to identify committed and experienced singers, usually who are already singing in their own school's choirs, to apply. Auditions are friendly and informal. Pupils can join when they are in Yr4 – 6, and when they transfer to secondary school they can either continue with the Junior Choir for a further year or move straight up to the Senior Choir (Yr7+).
When: Wednesdays 4:30pm – 5:45pm
---
Hackney Borough Senior Choir: Yr7+
Director: Georgia Van Etten
Senior HBYC was established 3 years ago and is directed by one of HMS's lead vocal tutors Harriet Syndercombe Court. The choir is made up of a combination of former Junior HBYC members, and singers who have been referred direct from their secondary schools. Like the Junior Choir, entry is by audition, and these are friendly and informal.
Senior HBYC regularly perform. Annual events include the Hackney Music Service Gala at the Hackney Empire and the Hackney Schools Singing Festival at the Round Chapel where they headline the Secondary Singing Event and the Hackney One Carnival. They collaborate with other HMS ensembles such as Junior HBYC and the Hackney Creative Jazz Ensemble. In 2014 they took part in a BBC project that led to a performance at the Barbican and rehearsals at the iconic Maida Vale Studios. The performance was broadcast on BBC Radio 3. In 2018 the Senior Choir took part in a workshop at the Barbican Centre with the internationally acclaimed choir Roomful of Teeth.  The choir are regularly offered opportunities to work with professional choirs and offered tickets to concerts via our extensive network of hub partners. 
When: Wednesdays 4:45pm – 6pm
---
Where: Both choirs rehearse at The Urswick School, Paragon Road, London E9 6NR
For more information, please visit our Ensembles Section.