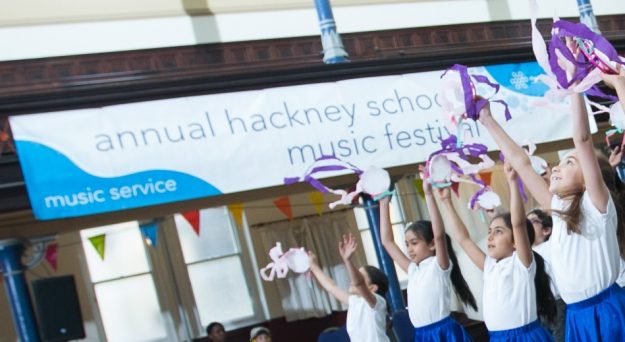 It is hard to believe that the schools singing festival has been running since 1997, but it has! It was established to support primary teachers (specialists and non-specialists alike) in delivering curriculum music through the use of accessible and inclusive resources in the form of a song bank, and a platform to participate in the joy of massed singing alongside other Hackney schools. Over the last 20 years, the festival has grown from three schools participating in one singing event, to a whopping 69 schools taking part in a fortnight of singing, instrumental, dance and partnership day events. So there is much to celebrate!
To mark the 20th Anniversary of the Schools Music and Dance Festival, in addition to the songs performed on the day, at this year's festival, we are providing a songbook with further bonus tracks for use across your school; in all there will be 20 songs celebrating 20 years, many of which have been suggested and put forward by our primary teachers as school favourites!
In addition to the established events, in consultation with the Early Years team, we are introducing a new EYFS singing festival, which will be led by, music lead and nursery teacher at Kingsmead School, Ben De Sausmarez. Ben has been a conductor of the Infant Festival supporting Yvonne Packer for some years and we are delighted that he has agreed to lead this new EYFS event. This completes the suite of singing events from nursery through to secondary school singing.
As this is the 20th Anniversary, we will also take this opportunity to celebrate our various partnerships with local and regional partners with a festival launch event at the Barbican Centre on 26th June – further details and how to obtain tickets for this event will follow shortly. The main festival will follow at the wonderful Round Chapel in Lower Clapton from 29th June to 7th July 2017.
This will be a special year of festival events with invited guest conductors and performers. For Hackney Schools who would like to participate, you can email lisa.davies@learningtrust.co.uk who will provide you with instructions on how to take part, and a festival registration form.