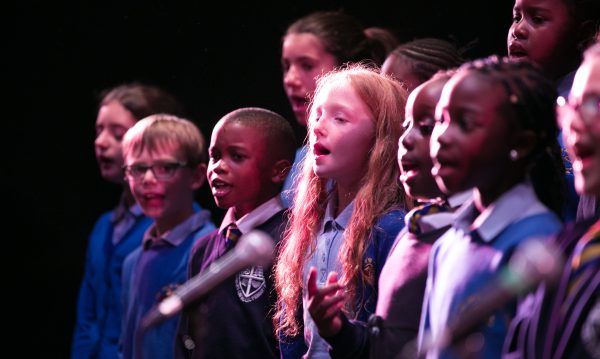 BBC Bitesize – From Monday 20th April, BBC Bitesize will be publishing daily online lessons for all ages. They will also have a new dedicated TV channel full of learning content, podcasts on BBC Sounds and loads of educational video on iPlayer:
---
HMDT – If you're looking for more activities to do with your children, then why not try HMDT's new schools' project How to Create Your Own Puppet Show.  This online project is perfect for learning the curriculum through the arts. A series of films in Art, Drama and Music give you all the tools for building all the elements for your show, including developing a character and story, making puppets and a backdrop from materials lying around the house and creating your own songs and sound effects. Decide whether to create your show around a story you know or make up, or perhaps around something learnt in history or science.
Do send HMDT a film of your completed show and so they can showcase it on their website! Email: info@hmdt.org.uk
---
Apollo Music Projects – is launching a Creative Writing Challenge to get you feeling inspired by and connected to classical music. When they play to classes in primary schools, the children always have such imaginative and poetic responses to the music and the way the musicians perform it. So AMP have decided to set musical prompts for children to write poems, stories or other pieces of writing while their musicians are unable to connect with them in the classroom.
How to take the challenge:
The challenge is open to all, but specifically designed for all children aged 4-11. All you have to do is listen to this piece of music
It is by Schumann, and played by violinist and Apollo Associate Artist Elena Urioste, and pianist Tom Poster.  What does it make you feel? What does it make you imagine? Where does it take you – to another landscape, another time, another body? Now, either while you're listening to the music or immediately afterwards, create a poem, story or any other response to the music. You don't have to know anything about the music to take the challenge. Just think about how it makes you feel and get writing!
Send your finished work to writing@apollomusicprojects.org by Monday 29 June.
Please include your name and your age. If you have worked with Apollo musicians in school, please also include your school and year group. It's not a competition, but writers will receive a certificate and the musicians will select their favourite pieces of writing for display on the Apollo Music Projects website.
---
Sound and Music – A 'Minute of Listening', Sound and Music's curated educational resources for EYFS, KS1 and KS2 pupils, takes children on a sonic journey through a wealth of listening experiences. Content has been devised to support the teaching of the National Curriculum and promote reflective listening, creative thinking, and the development of cognitive skills. Collections feature music and sound from across the globe, with contributions from world-renowned composers, artists and musicians, seminal record labels and cultural organisations and are completely free of charge to access during COVID-19. You can access the resource here.
---
Cultural rather than strictly musical, many museums and galleries are now offering fantastic virtual tours of their exhibits.   From the British Museum in London to the Guggenheim Museum in New York, from the Musee d'Orsay in Paris to the National Museum of Modern and Contemporary Art in Seoul, there is so much to explore. Find out more here
---
Barney Musician – One of our fantastic Hackney Music Teachers, Barney is compiling a list of music links for remote learning on his webpage that families can check out. The page contains a mixture of musical and other lovely education resources and is well worth an explore – you can read more here
---
Beat Goes On – Body Percussion Sessions and Junk Percussion Guides are being offered by Beat Goes On. You can join by visiting their YouTube Channels here and by viewing their free resources here.
---
Barbican Guildhall Creative Learning – Barbican Creative Learning has been working with their community partner Headway East London, which supports people with brain injuries, was due to host a printing workshop called Create your own Portraits in May run by Billy Mann, a Headway member. But with the Barbican temporarily shut, the experience can't take place. Undeterred, Mann, the Headway East London team and Barbican Guildhall Creative Learning have moved the workshop online for you to enjoy at home instead. Not a musical activity, but a lovely creative activity for you to get stuck into!
What you'll need: A handful of crayons, Some plain white paper, Any image to trace over.
See more and full instructions: here
---
David Walliams' Marvellous Musical Podcasts – listen here.
---
Explore more online resources here