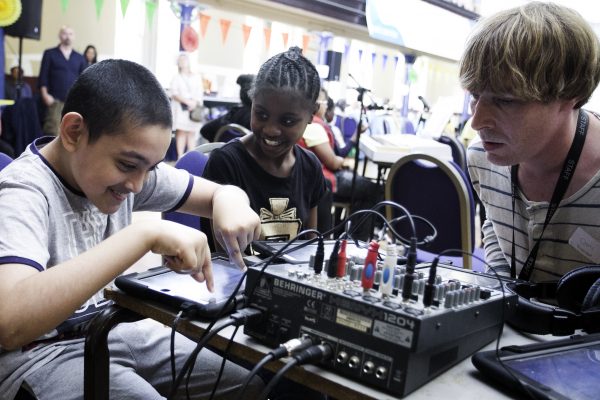 ---
Conductive Music – Music Production: on BandLab, Mondays and Wednesdays at 4pm, for Y4-8. Musical Video Games: on MakeCode Arcade, Tuesdays and Fridays at 4pm, for Y4-8. All sessions lasting 1 hour, held on Zoom (no cam, no mic, all questions on chat). Students can join at any time as instructions are shared at the beginning. Fully funded by DCMS, available to all students in our partner areas.
The Free tickets are on sale on Eventbrite. Students/Parents can register, will receive a confirmation email with a link to the online event page and the Zoom. For Music Video Production, visit here. For Music Production Visit here. 
---
Musical Futures – BandLab Project – This sample resource is part of a sequence of 7 lessons – the first 3 on Introduction to Music Production and then a further 4 moving on to Advanced Music Production.  The resources provide comprehensive video tutorials and resources to learn how to samples with the BandLab online web-based sequencer and have been developed for Musical Futures Online by music production and technology specialists – Education & Bass
This resource is designed to develop the following skills:
Develop basic music production techniques using BandLab
Effectively to create an original track using audio samples
Combine sets of audio samples that work well together
Be able to arrange and structure your own composition
Find out more information here.
---
Girls Rock London – GRL Music Production resources include an Intro to Ableton, Intro to Amplify, creating basslines / melodies / drumbeats using GarageBand on your phone, and much more!
---
Explore more online resources here