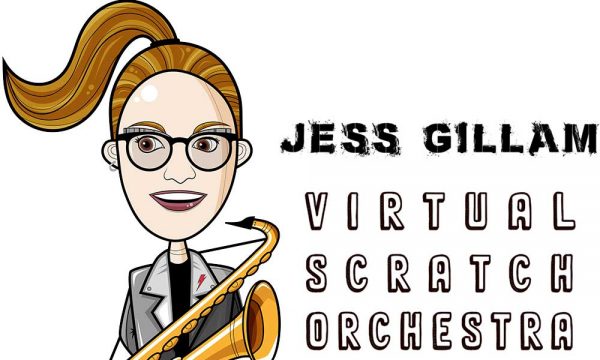 Bollywood Brass – Some lovely new instrumental resources produced by Bollywood Brass – a really fun lockdown 'play along' video of a classic Bollywood song Dum Maro Dum which you can see here. 
The idea is that young players can download the parts from this link and play along with them – the link is also in the YouTube video description.
Do share your performances on social media and tag
Bollywood Brass Band @BollywoodBrass
Bollywood Brass Academy @BolBrassAcademy
---
Rising-Star in Jess Gillam is inviting all young musicians to join her Virtual Scratch Orchestra.  She uploads different parts for different pieces across a range of instruments, you find the part that suits you most, learn it, video yourself playing it and send it in for Jess to collate.  More info on her website here. 
Here is Jess at just 15 years old giving a Tedx Talk about the saxophone in 2014 when she was short-listed as a Young Musician of the Year
---
LSO Play – Experience one of the world's leading orchestras like never before with this interactive and immersive web app.  A range of iconic pieces by composers ranging from Elgar to Shostokovich, Debussy to Stravinksy, Berlioz to Ravel, all filmed in HD during the LSO's Barbican Season. View the orchestra from four camera angles simultaneously, and switch between them at any time during the performance to experience the orchestra however you want. Filmed in exquisite detail, you can focus on anything from the tips of the drumsticks on the snare drum, to the violinist's fingers plucking their strings. You'll also find masterclasses with LSO players, contextual information on the musical background and history of the repertoire and listening guides.
The LSO, are also streaming concerts from their archives every Thursday and Sunday evenings, so do have a look at what is coming up and tune in via their website here.
---
Wigmore Hall – concerts that have ever been live-streamed are now freely available on YouTube
---
London Sinfonietta – Lockdown Live series: The live-stream will feature the world premiere of a new commission by composer Laura Bowler The Digger, performed by percussionist Joe Richards, alongside Matthew Shlomowitz's Hi Hat and Me. Both composers will join London Sinfonietta online to discuss their work, and questions will be invited from our online audience via live chat. To watch the live stream, please head to their YouTube channel.
This event forms part of Lockdown Live – The London Sinfonietta's response to the Coronavirus shutdown. Alongside Sinfonietta Shorts Live, which will bring new music direct to your living rooms every Wednesday at 3.00pm throughout lockdown, we are pleased to present our Introduction to Contemporary… series every Monday at 5.00pm, in which London Sinfonietta players dive in to the nuances of contemporary performance for their instruments. The first live-stream in our Postcard Piecesseries also takes place this Friday at 1.00pm, with performances by London Sinfonietta musicians of postcard-sized scores, submitted by young people and our online audience.
---
Blues and Roots Ensemble – We've had some fantastic resources sent into us by 'Blues and Roots', a series of videos to keep players interested in jazz and specifically all things related to the great icon Charles Mingus! The videos talk through the melody of one of Mingus' tunes, Nostalgia In Times Square, as well as first approaches to soloing and more advanced improvisation concepts. There is also a backing track to go with this.  Resources have been shared via YouTube and Instagram
First Approaches to Solos: YouTube | Instagram 
More Advanced Soloing: YouTube | Instagram 
Backing Track: YouTube | Instagram 
---
Benedetti Foundation: String players should absolutely get involved with this fantastic offer from Nicola Benedetti and her Foundation. The Virtual Benedetti Sessions will provide string players of all ages and stages, and from all over the world, with three weeks of consistent, scheduled online tuition. The three weeks follows a regular schedule of live and pre-recorded lessons which can be embedded into or as additional extras to students' working weeks. There are also some opportunities for any musician of any standard to join in with their Paganini Project – you can even join in playing pots and pans!  Please find some info from the Foundation below:
FOR STRING PLAYERS GRADE 3-5ish LEVEL:
Intermediate String Workshop
FOR GRADE 6 AND ABOVE:
Advanced string workshop
FOR MUSIC COLLEGE STUDENTS:
There is also a strand for conservatoire and university music students with a live chat weekly, adult learners/amateur musicians and two live chats a week for parents. 
FOR ALL:
There is the truly inclusive creative Paganini project, open to all participants of the Virtual Sessions, parents, siblings and anyone else hanging around that can bang a pot or pan to join in, too.  (Improvisation and basic rhythmic work will be taught throughout) 
FOR TEACHERS:
Two live sessions a week of professional development, live chat with Nicky and other tutors which also offers a chance for you to share and connect with each other.
The website here,  has a clear breakdown of each workshop.
The sign up links and full information can be found here: website 
There is no cost to participate – we are dedicated to keeping all our online work free of charge and accessible to all. However, we are a registered charity and in consistent need of support. We are asking those participants who are able, to make a donation when they sign up. 
If you have any questions whatsoever, please do get in touch. We ask you to contact: info@benedettifoundation.org with any queries and one of the team will get back to you as soon as possible.
---
ABRSM has a number of resources available:
Chief ABRSM Examiner John Holmes shares his top practice tips! You can read more here.
Sheku Kanneh-Mason and Myleene Klass share their tips on staying motivated. You can read more here.
Supporting your child's practice at home: here – Plus lots of other inspiration on the ABRSM's newly launched 'Play On' website here.
---
Beat Goes On – Body Percussion Sessions and Junk Percussion Guides are being offered by Beat Goes On. You can join by visiting their YouTube Channels here and by viewing their free resources here.
---
Explore more online resources here