Hackney Music Service: Music Tutor Spotlight…..Lawrence Tatnall
This month we continue our feature shining a light on our dedicated team of music tutors working across Hackney both in schools and our collaborative projects. This month we spoke to Lawrence Tatnall who began his work in Hackney 13 years ago. He is now the Musical Director of the Hackney Borough Youth Orchestra and works across a range of HMS projects and ensembles.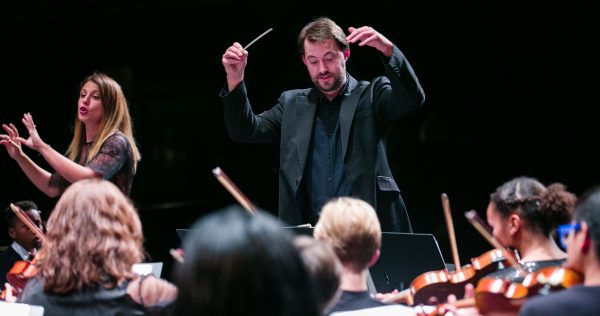 How did you come to choose your instrument, or did it choose you?
Although my official "instrument" is the trombone I now regard myself mainly as a conductor.  I was about 4 when I first started waving my arms to music with my granddad (who also conducted in his spare time!) but it was the piano and the trombone which I studied first. I didn't really pick up the baton again till I was about 16.
What do you enjoy most about conducting and what is most challenging?
The thing that I most enjoy about conducting is that I get to really influence how a piece of music sounds.  I really enjoy the rehearsal process of taking something raw and unrefined and helping to make it into a beautiful piece.  By the performance the conductor's job is basically done so then I get to hear amazing musicians playing from the best seat in the house!
What's your all-time favourite gig – (either played in or been to) and why?
It's really hard to choose a favourite concert of all time but I think it was probably the first ever orchestral concert that I went to see aged 8.  I knew from that point onwards that I wanted to be involved in an orchestra in some capacity for my career. There have also been some really special concerts with Hackney Music Service. Conducting the Hackney Borough Youth Orchestra at the Barbican with the LSO was a particular highlight.
What do you enjoy most about teaching in Hackney?
The thing that makes Hackney so amazing is the people!  I have now been teaching in Hackney for about 13 years and it's such an incredible place to work in.  It has been such a delight teaching in Hackney, and I think I have learnt just as much from the children over the years as they have learnt from me! It's also such a vibrant place with so many different cultures and people. I am not sure there is anywhere else in the world quite like it!
Tell us a little bit about your musical life outside of Hackney Music Service
Outside of HMS I conduct several different groups such as the Havering Concert Orchestra and the Theydon singers.  I also work with professional musicians and have put on several events with local amateur choirs.  I also play the trombone freelance and am the accompanist of a local choir.
How does all of the above influence your teaching? 
I think that my work as a conductor has really brought home the benefits of playing instruments not just as an individual but in a group with others. It has definitely influenced my teaching in that I always try to get my pupils listening to each other (as an orchestral player would) and I always try to put together ensembles to perform in my schools.
What advice would you give to a student on developing their playing?
My advice for students would be to try to find every opportunity to play their instruments with others!  I always hated practicing on my own but absolutely loved playing in groups.  If it wasn't for these, I don't think I would have ever made it as a musician. Find groups in your schools, in Hackney Music Service or even make a group yourself but get playing!
---
More about Lawrence:
Lawrence's first conducting experience was at the age of 4 in his grandparents house with a knitting needle. He then got his first real baton at the age of 16 while directing a performance of Beethoven's Egmont Overture at the Kent Centre for Young instrumentalists. After being named the BBC Radio Kent Young Musician of the Future in 2002 he went on to graduate with BMus (hons) from the University of Surrey in 2005 (majoring jointly in performance and conducting) studying under Nicholas Conran. He then got a Postgraduate diploma at the Trinity College of Music. Lawrence has gone on to conduct many more works ranging from Mozart chamber music to larger choral works, and also ran the University College London Big Band for 9 years. He is currently the Musical Director of the Havering Concert Orchestra, the Hackney Borough Youth Orchestra, and the Theydon Singers.  He recently founded the East London Chamber Orchestra; a collective of professional musicians for performing with choral societies. Lawrence is also a professional trombonist and has played in a diverse selection of groups ranging from principal trombone with Philharmonie de Nationale under Justus Franz to the prize winning brass dectet SE10