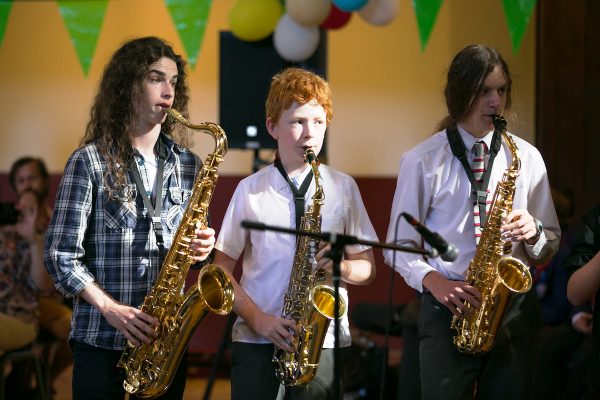 Hackney Creative Ensemble: Junior Band
Director: Tom Hewins / Justin Pickett
The Hackney Creative Ensemble was established by popular demand to act as a feeder ensemble for the already established Hackney Creative Jazz Ensemble.  It is open to young musicians from Yr4 upwards who are playing at around a Grade 1 minimum standard.  Players learn to develop their aural/oral and improvisation skills across a range of creative genres of music, supported by a team of fantastic specialist tutors.  All instruments are welcome!
When: Tuesdays 4:30pm – 6pm
Where: Bridge Academy, Laburnum Street, London, E2 8BA
---
Hackney Creative Jazz Ensemble: Senior Band
Director: Tom Hewins / Justin Pickett
HCJE is an established, fully-gigging ensemble that brings together the most advanced young jazz musicians from across the borough.  The group perform regularly – past events include a residency at the Vortex, Hackney One Carnival, Hackney Empire, the Barbican / London Jazz Festival.   They work under the direction of a team of core tutors, plus a rota of guest tutors, meaning that players are exposed to a huge range of fantastic musicians to learn alongside.
Hackney Creative Jazz Ensemble is open to players in Year 7 and above

Applicants must be of Grade 5 standard or higher. Applicants need not necessarily have taken a Grade 5 exam but should be able to play at level expected for Grade 5 players 

Players do not need to be able to read music
Exceptions to the minimum age / standard rule are occasionally made if we have a shortage of a particular instrument due to other exceptional circumstances

HCJE applicants are invited to attend a friendly trial session before being offered a place in the band

Applicants must either live in the borough of Hackney or attend a Hackney school

HCJE may also accept 'associate members' from neighbouring boroughs in certain circumstances, please get in touch for more information
When: Tuesdays 6pm – 7.30pm
Where: Bridge Academy, Laburnum Street, London, E2 8BA
---
Membership: Membership to HCE / HCJE costs £35 for young people attending a Hackney school, £45 for those living in Hackney but going to an out of borough school.  Costs for Pupil Premium families are £15 per term.
To apply to join Hackney Creative Ensemble (Junior Band), please complete this application form
To apply to join Hackney Creative Jazz Ensemble (Senior Band), please complete this application form
For further information, please email xanthe.sarr@hackney.gov.uk