This month we would like to shine the spotlight on one of our Hackney Borough Youth Orchestra members, Finn. Finn has recently achieved a Grade 8 distinction, an absolutely fantastic achievement. And she is only 11 years old!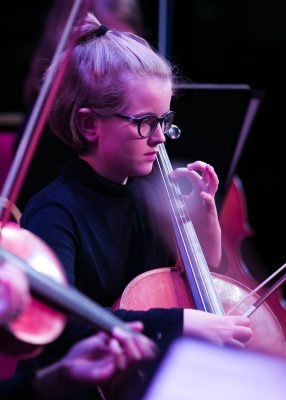 What made you decide to play your instrument?
When I was three I went to the Festival Hall at the Southbank Centre in London with my parents. We passed a group of young cellists doing a concert and I pointed them out to my mums. I told them that I "wanted to do that instrument" and they agreed, so a few months later I got my first tiny cello and started playing.
What do you love most about it?
I love how the cello can sound playful or melancholy at any time and I love the way it can blend into the background but still be easily noticeable and beautiful at the same time.
How often do practice?
I practice every day when I get home from school. Or as Sinichi Suzuki said "only on the days that I eat"
Do you play in any ensembles – orchestras, bands, in or out of school, or with HMS?
Yes, I play in the National Children's Orchestra, Hackney Borough Youth Orchestra, Hackney Youth Orchestra my school Chamber Group, and I sing and play in my school Jazz Band.
What has been your most exciting musical experience so far? (any particular performances that you have taken part in that really stand out, or a particular music lesson that really changed things for you?)
I think my most exciting experience has been at a fundraiser for building classrooms in Kenya down at St. Paul's West Hackney Church. I did play a solo too but the most exciting part was that I played Popper's Requiem for three cellos and piano with my cello teacher and his daughter. I felt like that was quite a big achievement for me because my teacher is actually quite famous amongst cellists and his daughter is much older than me. Getting my Grade 8 also felt amazing.
What musician would you most like to meet or perform with?
I wouldn't' think twice about meeting Jacqueline du Pre. She has always been my ultimate role model and I have loved her playing, especially her rendition of the Elgar cello concerto and Faure's Elegie.
If you could travel to anywhere in the world to listen to / learn more music or even travel back in time to a different musical era, where would you go and why?
I really have no idea! I think maybe later once I know more about what I want to do later in life I might get some ideas. I will keep that question in mind.
How does being a musician / performing music make you feel?
I always feel proud when I watch other musicians. I always think "hey, I'm one of you!" When I perform I often find myself thinking about how other cellists would play this piece, or what they would be thinking or feeling.
Any words of advice to someone just starting out on their instrument now?
I would say try to enjoy it. If you feel like it's something that's been forced on you, you've got no hope of developing. If you feel forced into it, you won't enjoy it, so you won't want to do it, so, try to enjoy it, and practice.