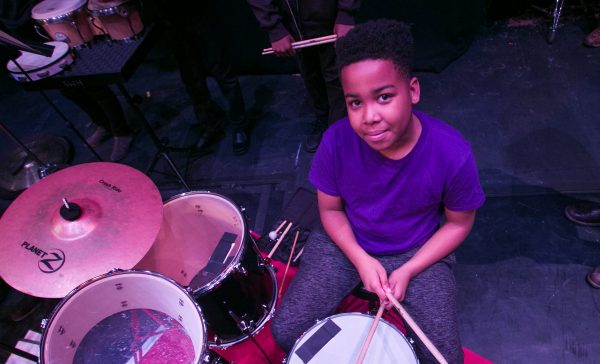 Holiday music courses are run at different times of the year and are either delivered directly by Hackney Music Service or one of our Network partners. Please see the programme below for up and coming holiday courses:
---
Hackney Borough Youth Orchestra is the most senior of all the Hackney Music Service ensembles.  The main orchestra rehearses weekly, however we are inviting guests to join us for this intensive weekend of learning some really exciting repertoire.  You need to play an orchestral instrument at a minimum Grade 5 standard to attend.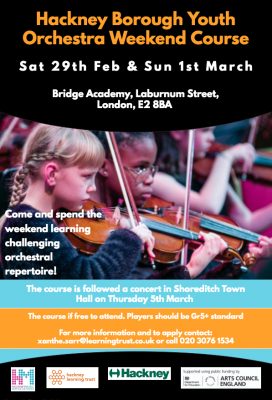 We will be looking at a movement from Dvorak's 9th Symphony, as well as the Berceuse and Finale from Stravinksy's Firebird Suite. 
The course will be led by HBYO conductor Lawrence Tatnall, and supported by a team of instrumental tutors with a specialist from each section of the orchestra – strings, woodwind, brass and percussion.
If you are available for the proposed dates, and play at a Gr5+ standard, then we would be absolutely delighted if you would join us.
The course is completely free of charge for Hackney residents and will take place over the weekend Sat 29th Feb / Sun 1st March, 10am – 4pm at Bridge Academy.  The course will be followed by an evening concert at Shoreditch Town Hall the following Thursday 5th March, 6pm. 
If you have any further questions, or to apply formally for your place on the course, please get in touch with Xanthe Sarr – xanthe.sarr@learningtrust.co.uk or 020 4076 1535, or simply return the HBYO Weekend Orchestral Course Application Form by downloading it here.
Address: Bridge Academy, Laburnum Street, London, E2 8BA
---
The Music Service is delighted to be able to invite young musicians to take part in the 17th annual Holiday Music Course. The course will take place during the February half term for three days –  Tuesday 18th, 19th and 20th February 2020 at William Patten Primary School.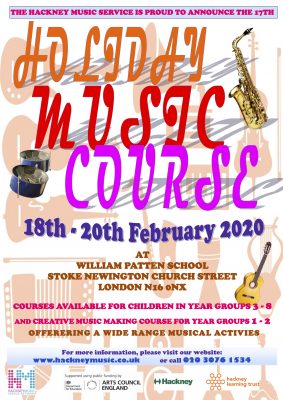 The courses offer full days courses for Strings, Brass and Woodwind, Steel Pans, Instrumental Roundabout (A chance to try out 3 different instruments) – as well as a half-day course in Creative Music Making.
Instrumental Courses: eligible for young people in Years 3-8 (9.30am – 3.30pm – 3 full days)
Creative Music Making Course: eligible for young people in Years 1-2 (9.30am – 12.20pm – 3 half days)
More information:
Before completing an application, please download and read our Holiday Course Info Sheet, with detailed information on each course, criteria, and a break down on costs.
Application Deadline:
Please download the Holiday Course Application Form Here. If you wish to apply for a place on any of the courses, please complete the enclosed Holiday Course application form and return by midday Friday 7th February 2020. 
Further Questions:
Email musicservice@learningtrust.co.uk or call 020 3076 1534