Let's Make Music Summer School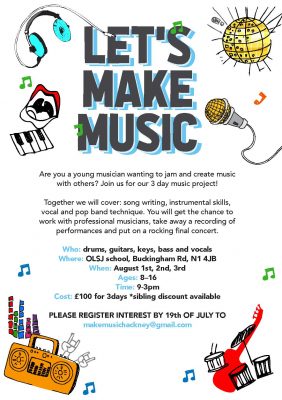 Are you a young musician wanting to jam and create music with others? Join us for our 3 day music project!
Together we will cover: song writing, instrumental skills, vocal and pop band technique. You will get the chance to work with professional musicians, take away a recording of performances and put on a rocking final concert.
Who: drums, guitars, keys, bass and vocals
Where: OLSJ school, Buckingham Rd, N1 4JB
When: August 1st, 2nd, 3rd
Ages: 8–16, Time: 9-3pm
Cost: £100 for 3days *sibling discount available
PLEASE REGISTER INTEREST BY 19th OF JULY TO makemusichackney@gmail.com