Welcome to our Monthly Spotlight!
Each month we'll be shining a spotlight on hard-working talented pupils from across the borough in receipt of awards from a range of different funders.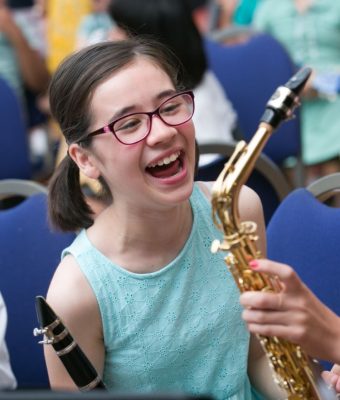 'Never give up and keep trying 'till you achieve.' Eleanor
Our January Hackney Scholar of the Month is Eleanor.  Eleanor is a recipient of a Pupil Award for Musical Achievement from the Mayor of Hackney.  Now in its 6th year, the Hackney Mayor's Music Awards (MMA) is a fund, established by the Mayor of Hackney, to help and support aspiring young musicians to develop their musical skills and also to recognise the quality of the music education offer in Hackney's schools. 
What made you decide to play your instrument?
I had a chance to try out different instruments when I was at my primary school. I knew I didn't want to learn the violin, I wanted to try something different.  So I tried a flute and a clarinet.  I found I could make a sound on the clarinet the first time I tried to play it. At that time none of my friends were playing this instrument and it made me feel really proud to be the only one learning.  And I've been really enjoying it ever since.
What do you love most about it?
I love that it is an instrument that is easy to play and that you can have a chance of many concerts and activities 
How often do practice?
I practise every day for at least an hour
Do you play in any ensembles – orchestras, bands, in or out of school, or with HMS?
Yes. I rehearse with Hackney Training Orchestra every week and I'm also in my school orchestra and big band
What has been your most exciting musical experience so far?         
My first Hackney Music Service Gala Concert at the Hackney Empire, the Federation Music Festival that I performed in with my primary school at the Round Chapel and now my first Christmas concert at my secondary school.
What musician would you most like to meet or perform with?
I would like to meet Anne-Marie and Beethoven
If you could travel anywhere in the world to listen to / learn more music or even travel back in time to a different musical era, where would you go and why?
I would go to Austria to study more of Mozart because he was an amazing composer that composed many famous songs.
How does being a musician / performing music make you feel?
Performing music makes me feel happy and safe
Any words of advice to someone just starting out on their instrument now?
Never give up and keep trying until you achieve.
 
Eleanor started learning the clarinet with a Hackney Music Service tutor when she was in primary school and hasn't looked back since!  She made exceptionally good progress and as a beginner learner, and at the end of Year 6 she passed her ABRSM Grade 4 exam which is a fantastic achievement, particularly for such a young player.  Eleanor is a member of the Hackney Training Orchestra and regularly takes part in HMS concerts such as the annual Gala at the Hackney Empire, and the Schools Music and Dance Festival at the Round Chapel.  And now she is at secondary school she is fully embracing musical life there also as a member of the school orchestra and big band.  Keep up the good work Eleanor!