This month, we continue with our new feature, Hackney Scholar of the Month, shining a light on some of the amazingly talented young musicians in Hackney. This month we continue with Shania – read her feature and interview below….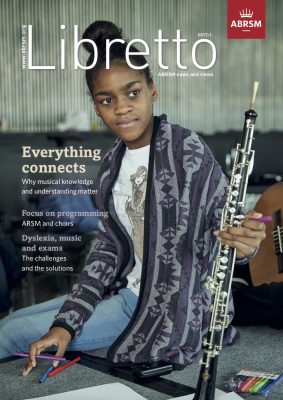 Shania first came to HMS's attention when she joined the Hackney Borough Youth Choir when she was in Year 4.  She was a fantastic singer, and was also we discovered making really good progress as a recorder player in her classroom music lessons at primary school.  She had also started to learn the violin, and by the time she reached Year 6 and was getting ready to move to secondary school, still singing, playing the recorder and also the violin, she was showing all the signs of being a really talented young musician.  She already had a really good basis for learning to play a wind instrument with all her singing and recorder experience, so she tried the oboe out and, as you will see from her interview, the rest is history!
(Photo of Shania featured on the front of the ABRSM's 'Libretto' magazine, taken during her time as a London Music Fund scholar)
What made you decide to play your instrument?
When I was initially presented with the opportunity to play the oboe by Hackney Music Service, I must admit that I didn't actually know what it was as I had quite a limited knowledge of music at the time. I had been playing the violin for a few years and although I really enjoyed it, I was excited to try something new. I had a "taster" lesson on the oboe and enjoyed it immensely which prompted me to make the decision to start learning it.
What do you love most about it?
I love the fact that the oboe is quite a rare instrument and it is fun to play. It is always a joy to meet other oboists as well.
How often do you practice?
My practise times vary as I am usually very busy, but on average, I practise about 4-5 hours a week.
Do you play in any ensembles – orchestras, bands, in or out of school, or with HMS?
Yes, I play with the Hackney Borough Youth Orchestra and I am in the senior school band at my school.
What has been your most exciting musical experience so far? (any particular performances that you have taken part in that really stand out, or a particular music lesson that really changed things for you)
My most exciting musical experience so far has been the London Symphony Orchestra concert at Trafalgar Square last year. It was a lot of fun to meet other musicians (and oboists) it was also very exciting to play the music with the composer (Kate Whitley) so nearby and invested in the deliverance of the piece. However, I think that my first performance at the Hackney Music Service Gala at the Hackney Empire is what really encouraged me to invest my time in studying music.
What musician would you most like to meet or perform with?
I would love to meet John Clayton.
If you could travel anywhere in the world to listen to / learn more music or even travel back in time to a different musical era, where would you go and why? 
I would travel to New Orleans between 1920-1950's when Jazz was most popular. Personally, I think that Jazz represents cultural diversity and hope. Despite the stigma surrounding people of colour and the problems happening in the rest of the south during this time period, Jazz continued to develop and change the expectations of what music "has" to be like and who can play it.
How does being a musician / performing music make you feel?
Whenever I finish learning a new piece or whenever I play something well, I feel a sense of accomplishment. With music, you can hear that all of your practice and extra hours are paying off.  When I think back to when I had first started my instrument, and think of the progress that I have made, I feel like I have really achieved something. Music is one of the most liberating forms of expression and it is always interesting to learn about the way that music ties in with the historical context that we are taught at school.
Any words of advice to someone just starting out on their instrument now?
I would advise the person just starting out on their instrument to get involved with as many ensembles and group performances as possible. It is a great opportunity to meet likeminded people, make lasting friendships and learn more about other instruments. I would definitely encourage the individual to continue with their instrument for as long as possible. Music opens so many doorways and it is never boring because there are so many styles, genres and interpretations. Music is freedom, and although it takes a while to master your instrument, it is most definitely worth it.
More about Shania's story...
After making a cracking start with her oboe playing Shania was originally awarded a scholarship from the Mayor of London (now known as the London Music Fund).  She was also given the chance to put her singing to good use during her time as a Mayor's Scholar as she was invited to Southwark Cathedral to sing a solo for the Mayor's Carol Service, which she did absolutely beautifully.  Once graduated from the Mayor of London's award, it was clear that Shania was fast becoming quite a serious player and was about to start her Music GCSE course.  She received further support, this time from the Mayor of Hackney, to continue with her lessons.  Now in the middle of her Music A Level course at a sixth form in a Hackney school, Shania is receiving some assistance from both the National Youth Arts Trust and also from the fantastic singer and songwriter Kwabs HMS is lucky to have a very special relationship with this extraordinarily talented, generous and resilient young man. Shania is one of a number of Hackney young musicians Kwabs has supported over the last few years.  As a result of this generosity from both Kwabs and the NYAT, Shania now has an oboe of her own and continued support with her oboe tuition this year.