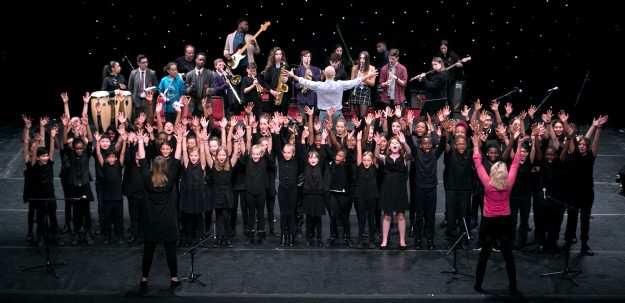 Taking place at the Hackney Empire, this concert celebrates the achievements of some of the most gifted and talented musical pupils and students in our schools and community. It features a diverse range of ensembles including, bands, choirs, soloists and school groups, as well as our jazz ensemble, combined borough orchestras, dancers and drummers. Over 350 young people from Hackney's primary, secondary and special schools will take to the stage, all of whom have excelled in music in their respective schools and borough-wide ensembles.
The Music Gala incorporates the Mayor's Music Awards for the fifth year. The MMA is a fund, established by the Mayor of Hackney, to help and support aspiring young musicians to develop their musical skills and to recognise the quality of the music education offer in Hackney's schools. There are three categories: Pupil Award for Musical Achievement; Instrument Fund for Ensemble Development; and an award for Excellence in Music Education Practice.
Ticket Information: please see the Hackney Empire website Here.