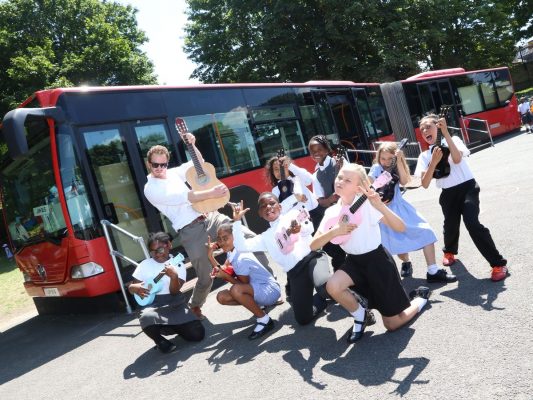 LSO Play – Experience one of the world's leading orchestras like never before with this interactive and immersive webapp.  A range of iconic pieces by composers ranging from Elgar to Shostokovich, Debussy to Stravinksy, Berlioz to Ravel, all filmed in HD during the LSO's Barbican Season. View the orchestra from four camera angles simultaneously, and switch between them at any time during the performance to experience the orchestra however you want. Filmed in exquisite detail, you can focus on anything from the tips of the drumsticks on the snare drum, to the violinists fingers plucking their strings.
---
Apollo Music Projects have put together a lovely compilation of video clips showcasing some of the instruments and composers linked to their schools programme, and they have kindly made this available for everyone to use.  If you have had the project in your school then do send the link out to the target year group, though this would make fantastic listening material for any pupils and will help consolidate their knowledge and understanding of orchestral instruments.  Would work very well alongside the LSO Play web app.
---
BBC Bitesize – Lots of fantastic activities for KS2 available on the BBC Bitesize page here. Plus vast resources on the BBC 10 Pieces site.  A lovely collection of films introducing each of the pieces (and there are now several sets of 10 Pieces so lots of works to get through!) plus lesson plans.  The plans are designed for teachers but do try following them at home too!
---
Wigmore Hall – The Wigmore Hall's Education team have also made available their Key Stage Concerts and accompanying resources (please note the resource packs are aimed at teachers, but families may enjoy using these at home also)
Key Stage 2 Concerts
---
Twinkl – Learn about different instruments, musical notation, composers and the history of music with these resources for Key Stage 2 students. Featuring worksheets and activities on famous musicians, musical genres, music vocabulary, and the rhythm, as well as music-themed classroom display resources. Learn more here
---
Music Chrome Lab is a website that makes learning music accessible through fun, hands-on experiments, making connections to science, maths, art and more:
---
Mr Spoerer's Jam Bus Tutorials – For anyone with a keyboard at home, or even access to a keyboard app (you'll need the black notes too!) then check out Mr Spoerer's Jam Bus Tutorials – he is creating these right now so more will go up over the coming weeks.  The Jam Bus is his super cool music 'classroom', a decommissioned bendy bus donated to the South London school by none other than Mr Ed Sheeran himself, and then converted into a music classroom/studio via massive amounts of crowdfunding.  Take a look here
---
Mr Scullins Music Room – YouTube Channel, check out his household items Samba tutorial here
---
Myleene Klass' is offering online music lessons – see more on YouTube here
---
Explore more online resources here