Hackney pupil wins Outstanding Brass Scholar award at the London Music Awards!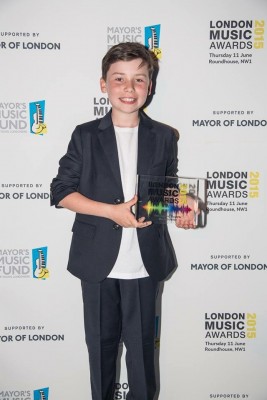 Mayor's Music Fund scholar Louis Lodder (Simon Marks Primary School) was nominated for the award by Hackney Music Service, and was chosen from brass scholars across London to win the outstanding brass award – a tremendous achievement, we are all extremely proud of him! The award ceremony took place at the Roundhouse on Thursday 11th June.
This is the second year in a row a Hackney pupil has been selected for an awarded as last year Kingsmead's Daniel Aidoo was awarded the outstanding percussion scholar prize. To top it all off, Louis performed the first movement of Mozart's 1st Horn Concerto with the Hackney Training Orchestra for their end of term concert. He will be performing the piece again at the HMS Project Partnership Performance day on Friday 3rd July 2015.