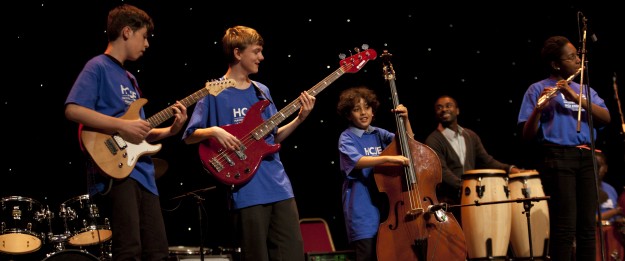 Entry Criteria:
Applicants must be aged 11 – 18yrs (Year 7 students and above) and be of Grade 5 performance examination standard or higher. The ability to sight-read is desirable but not essential. However, members are encouraged to continue developing this important and valuable skill.
All applicants must attend an informal audition prior to entry, as part of the assessment for membership process.
Applicants must either live in the borough of Hackney or attend a Hackney school/college/academy.
HCJE may also accept 'associate members' from neighbouring borough's music education hubs. In this instance, with the exception of '3' above, all other membership criteria apply. In addition, 'associate members' are subject to a higher fee than those meeting criteria '3'.
Exceptions to entry criteria:
In exceptional circumstances, HCJE may accept guest students without Grade 5 or equivalent, where there are gaps in instrumental forces.
When: Wednesdays 5 – 7pm
Where: The City Academy, Hackney. Homerton Row, London E9 6EB (Please note that all ensembles are currently taking place online, via Zoom)
Session leaders: Gerry Hunt and Justin Pickett
Cost – £35 for those going to school in Hackney. If you live in Hackney but don't go to school in Hackney it is £45. If neither living nor going to school in Hackney it is £65. Fees paid at the start of each term.
Discounts are available for Pupil Premium families – please enquire.
How to apply: Applications accepted throughout the year, HCJE-Application-Form-2019.
For further information please contact Oliver Crooke (HCJE Manager) at Hackney Music Service: Email – oliver.crook@learningtrust.co.uk