Applications are now open for The National Youth Orchestra of Great Britain 2020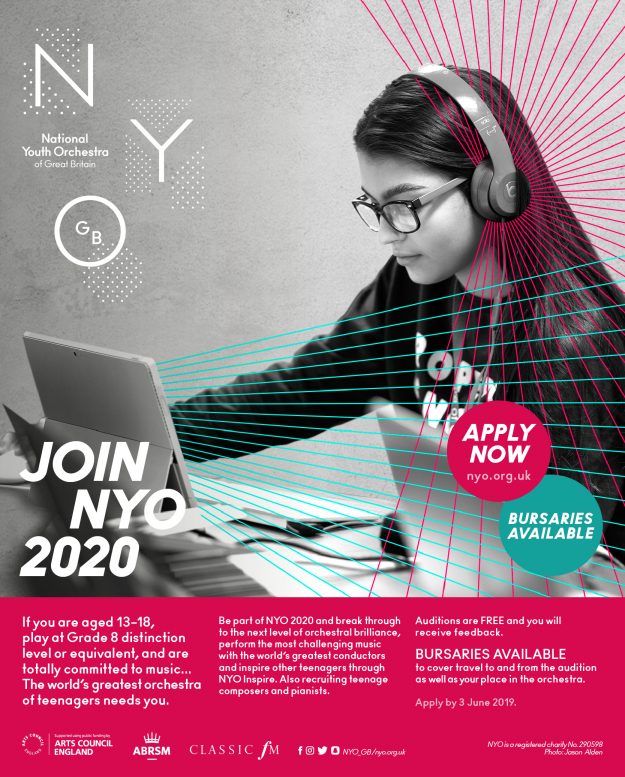 Young musicians who are aged 13-18, play at Grade 8 distinction level or equivalent and are totally committed to music.
Musicians who are offered a seat will be attending three orchestral rehearsal residencies, tour dates, three performances throughout the year and between 5-10 days of NYO Inspire activity. Subject to confirmation – the activities take place in schools and concert halls around the UK throughout the year.
Auditions will be held in London, Manchester, and Birmingham during late September – October 2019.
Residency Dates
Saturday 28 December 2019 – Monday 6 January 2020 – NYO Winter Residency
Tuesday 7 April 2020 – Saturday 18 April 2020 – NYO Spring Residency
Monday 27 July 2020 – Saturday 8 August 2020 – NYO Summer Residency
Additional NYO Activity Dates
Saturday 15 – Sunday 23 February 2020 – NYO Inspire Ensembles
NYO welcomes musicians to be part of the NYO 2020 and break through to the next level of orchestral brilliance, perform the most challenging music with the world's greatest conductors and inspire other teenagers through NYO Inspire. NYO additionally recruits teenage composers.
Auditions are FREE and applicants will receive feedback.
Bursaries are available to cover travel to and from the audition as well as the applicant's place in the orchestra. Auditions are friendly, positive, and great learning experiences. NYO Tutors will share playing tips in a workshop, and all applicants will receive performance feedback.
More more information please visit the NYO Website.